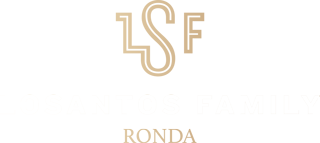 Visit Doña Felisa Winery

A unique place, 
where you can enjoy unique wines.
Live an experience to remember, personalised, in a unique place, where you can broaden your knowledge and enjoy learning about all the winemaking processes from the grape to the glass.
Discover the secrets of this famous winery in Ronda: immerse yourself in the philosophy that makes them so characteristic of their creators, some of the members of the Losantos family will accompany you throughout the personalised visits that we have for you.
The landscape that embraces us is the origin of what we do, we will show you a different way of understanding the countryside and our productions. Before tasting the wine, you will get to know the vines from which it is made.
This idyllic setting, together with our passion for the culture of detail, will make your visit unforgettable.
Experiences
Our wine tourism offer offers you the possibility of designing tailor-made experiences and you will be able to enjoy the different areas of our winery.
If you want to get to know our project, this is your best option. You will enjoy a guided tour of the vineyard and our winemaking rooms, where you will learn how our wines are made from start to finish.
Finishing with a tasting of 4 of our wines, accompanied by an assortment of tapas.
Approximate duration: 90 min
Timetable: Monday to Sunday, 11:30h
We start our visit with a walk through our vineyard, enjoying our wonderful views.We go through the winemaking, bottling and ageing rooms, discovering the whole process from the vine to the glass.
We finish with an excellent fusion of 5 of our wines with food with local products.
Approximate duration: 150 min
Schedule: Monday to Sunday 11:30h

Can you imagine sleeping in the cellar?

Enjoy a dream stay at Bodega Doña Felisa, relax, calm and peace accompanied by the best wine.
Fully equipped room, in a wonderful setting overlooking the vineyard. The winery has only 4 suites, so you can enjoy the peace and quiet without any crowds, so much appreciated these days.
Gift of a bottle of wine in your room.
What better way to taste our wines than with a visit to our winery in Ronda?
You will learn all the details of how wine is made, what our land is like and even the secrets of how to taste it in the best way, an unforgettable experience!
And, as with wines, we know that everyone has their own preferences. That's why we personalise your visit and design experiences, so don't hesitate to tell us what interests you and your group! Or tell us a little about yourselves and your tastes. We are sure to find the perfect itinerary for you.
Our geographical setting is unique. Surrounded by holm oak, gall oak and cork oak forests, surrounded by the natural areas of Grazalema and Sierra de las Nieves, Biosphere Reserve, as well as Los Alcornocales.
It also has a privileged Mediterranean climate and is influenced by the Atlantic, with temperatures that can reach a difference of 20 degrees between day and night. The soil is loamy and clayey, with limestone in the lower horizons, which helps to retain the humidity of the soil. This makes it possible to obtain unique wines. According to the experts, both white and red wines from Ronda are monumental, patient, calm, generally fruity on the nose, whose aromas are attenuated in the aged wines, gaining complexity and acquiring aromas typical of the ageing process. In the mouth they are wines with volume, with good persistence and more unctuous and concentrated in those subjected to ageing.
Ronda was already a land of wines since ancient times. This is demonstrated by the nearby Roman ruins of Acinipo, where remains of wine presses and coins minted with a bunch of grapes have been found.
In our cellars you will find reds, whites, rosés and even a sparkling wine, the only one in the region, a brut nature made possible thanks to our Sauvignon Blanc grape variety. We have 6 vineyards, located at an average altitude of 850 metres above sea level and with different grape varieties, which gives each of our wines a unique character!
We do not treat our vines with herbicides or other chemical synthesis products and we carry out the pruning, harvesting and all the work in the vineyard by hand, controlling the whole vegetative cycle of the plant. We harvest at night to prevent the grapes from suffering the high temperatures of our area. We also carry out an exhaustive selection of the bunches in order to take only the best to the winery. We transport the grapes in boxes of no more than 15 kg, to avoid damage to the grapes or possible spontaneous fermentation.
Thanks to our long family tradition, we can offer you a variety of routes and explain or show you any detail of the winemaking process. And, of course, at the end of our visits, we will do a tasting of different wines of ours. If you prefer, you can even book just the tasting.
Now that you know some details of our vineyards, do you fancy a visit to our winery in Ronda? We would be delighted to toast with us!